GRAPPA
Our grappa is obtained through a steam distillation process from the residue of Chardonnay grapes produced and selected within the company.
OLIO
With a pleasant taste for amiability and fragrance, fruit of passion and experience, our Olive Oil is obtained by selecting healthy and ripe fruits from our territory.
MIELE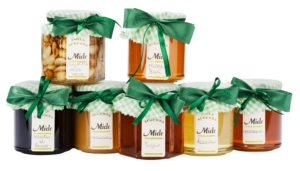 The secret that makes our productions special is the attention and respect for nature during processing. In this way we obtain a honey rich in proteins and mineral salts that preserves all the original perfumes and aromas. Our main varieties are: Acacia, Chestnut, Linden, Forest, Dandelion and Polyflora.